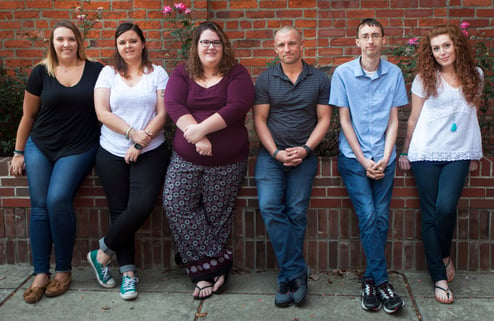 Whether you are a small, medium, or large-sized business, you are probably familiar with your company's usage of stock photography.
Stock photography gained popularity in the early 1980s when businesses shared similar photography needs. To this day, millions of photographers have committed their life to taking stock photography for both free and paid websites.
The problem is that while everybody loves a good stock photo, chances are your audience already knows that it's stock, meaning that brands who use their own custom photography have a lot to gain by capitalizing on the market.
Authenticity Matters
According to AdWeek, authenticity is defined by consumers as "a brand that has values and morals and stands by them no matter what while honestly divulging its practices (flaws and all)."
In 2013, the Boston Consulting Group surveyed 2,500 American consumers and found that being authentic was one of the main qualities they said would attract them to a brand. For millennial consumers, it was second in importance only to rewarding their loyalty with discounts.
Consumers are leery of brands (especially bigger name brands) that they don't feel are being authentic. In North America, consumers say they trust only about a fifth of brands, according to a poll by Havas, a marketing agency. About half of American shoppers say they trust small companies to do the right thing, compared with just 36% who say the same of large ones, reports Mintel, a research firm. (ref. The Economist).
Not only can consumers spot stock photography from a mile away, it's very easy to see through the "emotion" in the images. For companies that are in an industry where emotional connections are crucial (ie., healthcare, education, etc), this is an easy way to lose that authenticity with your audience.
It's too easy to see through the image of a "Pretty Young Woman Smiling", and to see how posed/forced that smile is. By using custom photography, your photographer can focus on capturing genuine moments in your environment, and creating something that people can connect with.
One of the easiest ways to showcase your authenticity as a brand is having a photographer come into your business and showcase what your company culture and values are. Some examples include:
Company life:

What do your day-to-day operations look like?
Culture:

Everyone has a quirky work environment. What makes yours unique?
Product:

How are your products made?
Ingredients: Are your ingredients unique or special?
Charity:

What charity work/giving does your company regularly do?
connecting with the next generation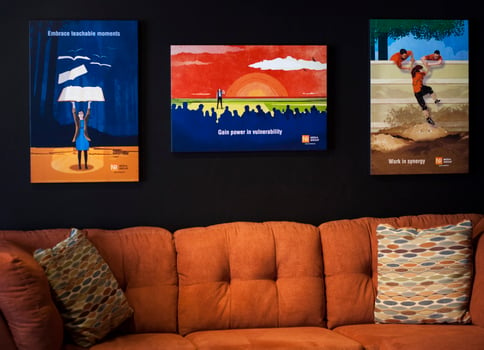 As companies begin marketing to the next generation of consumers, it is important for them to understand what is driving their choices.
According to a study by IBM Institute of Business Value and National Retail Federation, 62 percent of Gen Z'ers are frequently attracted to new and fun brands, 55 percent choose brands that are eco-friendly and socially responsible, and 53 percent select brands that understand them as an individual.
These shoppers will resonate with your brand - but only if you let them. Showing them your culture and values is the best place to start.
One of the ways NR Media Group did that was by taking environmental photos of the office and people. Our conference room is dominated a big bright orange sectional, and above it on the wall are the core value posters known as our Northstars. This is just a fun way to showcase what we believe in, but also the laid back attitude of our office. Now we have a concrete visual representation of our office that is totally custom to us.
How to justify it to management
One of the hardest parts of getting custom photography approved for your marketing budget is how to justify it to your management team.
Structured Process = Cost Savings
Depending on your budget, either option has the opportunity to rack up costs if you let it. Stock photos from popular sites such as Shutterstock require you to purchase a bulk amount of photos. Pricing can range upwards of $500+ per month for team plans or can be purchased on demand for up to $1,700.
While custom photography is typically more expensive to start, organizations can save money by choosing a photographer that has a fundamental understanding of what images will be needed for web and print materials. This increased level of efficiency will mean you get exactly what you want every time and you won't have to have multiple shoots.
Using custom photography also means that you can build your own bank of images that you can pull from in place of stock photography. It's also something that you can pay for as needed, versus paying a monthly fee, no matter how many images you use.
Customization is the Key to Happiness
Whereas stock photography is available 24/7 from any computer with an internet connection, custom photography requires a little more planning.
Stock photography is a great solution when you need to update a brochure and don't have the several weeks needed for your custom photography to be developed and processed.
That being said, if your team can plan for those updates in advance, photography shoots can be coordinated and would be a great opportunity to showcase your brand with your own unique images.
This is one of the true benefits of custom photography. With custom, you get to have full control over exactly what images you need to communicate your message to your leads and customers. You can also communicate specific styling or editing options that fit your brand image.
With stock photography, you are at the mercy of what is available, which can also fall prey to fitting what styling is "trendy" at the time.
---
Recommended Frequency:

Medium sized businesses should shoot for bi-annual full-day shoots or quarterly half-day shoots. Larger companies with more collateral would benefit from having quarterly full-day shoots.
---
Your Image Speaks For You
While stock photography can be tempting for a lot of companies, it doesn't give you the opportunity to really showcase your brand through visual content. Just like a logo or color palette, the images on your site are a part of your brand standards.While you can select stock photos from the same photographer or theme, other companies can to – which means your brand is being represented by the same visual content as another company.
Investing in custom photography gives you the chance to find a photographer that matches your style and can cater to exactly what images you want, all while being totally unique to your brand image. Many photographers will even work with you to build your own bank of "stock photography" that includes your office, your people, your brand. While it is potentially a larger start-up investment, utilizing custom photography can really put you ahead of your competitors.