Every year, the Super Bowl is a highly anticipated event for sports, but also for advertising.
This year, not only did the Philadelphia Eagles and the New England Patriots battle for the championship at Super Bowl LII, but major companies and ad agencies fought for your attention.
It's no surprise that ad agencies compete for the highly coveted time between plays where they can grab your attention, and NBC sports really capitalized on that desire this year. According to Sports Illustrated, NBC Sports charged more than $5 million for a 30-second spot during Super Bowl LII.
Last year, many brands took a stand on political issues like gender equality, immigration, and civil rights. This year seemed to fall back on more humorous ads, possibly because of an exhausting amount of political battles that the country has faced in the past 365 days.
From the weird to the wild, to the downright hilarious, this year's commercials did not disappoint.
The Eagles may have won the 2018 Super Bowl, but these ads won the commercial breaks.
We put together our breakdown of the best Super Bowl commercials of 2018:
Ads That Had Us Saying, "What?!"
Febreze introduced us to Dave, "the only man whose bleep don't stink," in this documentary-style ad spot. Dave's parents, doctor, former wrestling coach, and ex-girlfriend all weigh in on the anomaly that is the man whose *bleep* doesn't stink.
Febreze ends the spot with the line "Dave isn't at your Super Bowl party, but everyone else is. Is your bathroom ready?"
While the commercial was very tongue in cheek, it seemed a little late to run an ad about having your bathroom ready for your Super Bowl party while the game (and probably your party) had already started.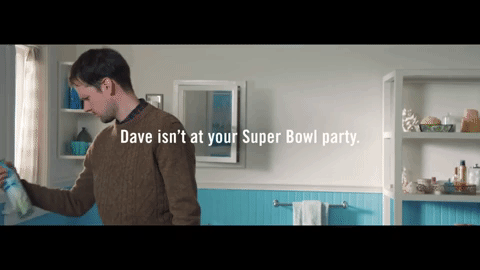 In this weird, "perfect" future society, citizens have everything they could ever want, including a mass supply of delicious avocados from Mexico. But when someone realizes that this perfect society doesn't include chips, anarchy erupts.
As society is crumbling, the crowd is subdued when their leader reminds them that avocados are delicious in so many ways, like the ever-popular avocado toast. The people are at peace once again, that is, until the wifi goes out...
The classic M&M's characters get a realistic upgrade when the Red M&M wishes on a lucky penny after being asked to be eaten one too many times.
Enter Danny Devito.
As referenced in the commercial, the actor has always looked like a human version of the candy, with his bald head and short, round shape. Anything featuring Danny Devito gets automatic funny-points, but the ad falls flat after that.
There's obvious laugh-factors when Devito is running around asking people, "Do you want to eat me?", but then he gets hit by a passing truck and the commercial just seems to lack direction.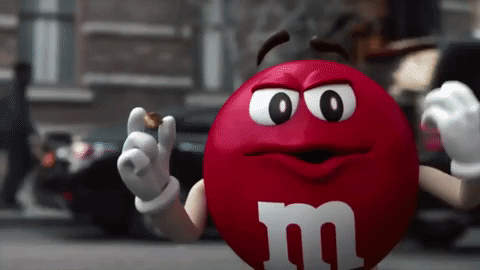 Ads That Inspired
The iconic Budweiser Clydesdales stepped aside once again this year, but the emotional marketing didn't. Instead of directly promoting beer, Budweiser showcased the work that went into it's humanitarian efforts.
Budweiser has donated 79 million cans of drinking water in response crises around the world during the last 30 years, with the most recent disasters hitting California, Florida, Texas, and Puerto Rico. The ad follows the story of one factory worker who helps bottle the water and is set to the song "Stand By Me."
We're not crying, you are (Ok, we all are).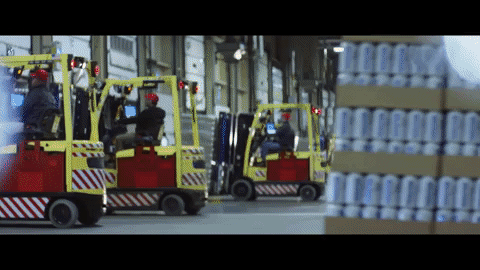 In a series of ads called "Best of U.S.," NBC promoted the upcoming Winter Olympics by telling the story of how some of the top athletes got to where they are.
One story is that of Alpine skier Lindsey Vonn, who won a gold medal in 2010 and couldn't compete in 2014 due to injury. The ad starts with home videos of Vonn learning to ski and continues through her dramatic 2013 crash, and then follows her journey of rehabilitation and training.
Other versions of the ad show figure skater Nathan Chen, snowboarder Chloe Kim, and skier Mikaela Shiffrin.
The ads are emotional and gripping, and they left us ready to stand up and cheer at the culmination of every story.
Coke has been creating ads around the idea of togetherness for awhile now. This year, they chose to celebrate diversity. Their ad, "The Wonder of Us," shows people around the world drinking different Coca-Cola products.
A poem plays over the ad, with the message that there's a Coke out there "for he, and she, and her, and me, and them." Coke did a really good job at following their traditional ad messaging, while using gender-neutral terms and including people with different races and sexual orientations.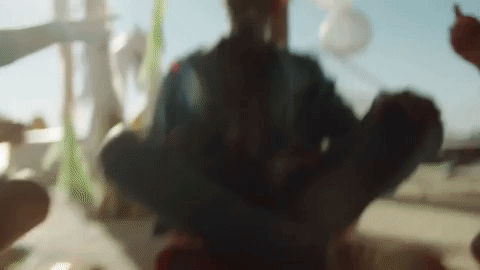 ---
Want to talk about the ads with the experts?
Join us on 2/8 for the Big Game Ad Review Panel with Columbus AMA.
---
Ads That Left Us Laughing
The New York Giants definitely win "Best Touchdown Celebrations," and yea, we know that the Eagles and the Patriots were the ones actually playing in the Super Bowl this year.
Football players have been known for their elaborate touchdown celebrations, but this commercial from the NFL takes the cake. Giants' players Odel Beckham, Jr., and Eli Manning channeled their inner Patrick Swayze and showed off their best moves during a touchdown celebration during practice, complete with the iconic lift from Dirty Dancing.
Even the team's offensive line got in on the action as backup dancers while the song "Time of my Life" played in the background.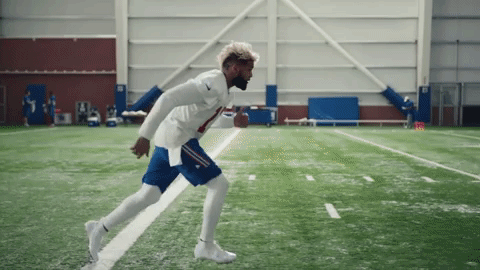 Ok, we're disappointed that a Crocodile Dundee sequel isn't happening, but this ad from Tourism Australia is devilishly smart.
Australia's biggest movie stars, and Danny McBride, all make an appearance in what appears to be a trailer for an upcoming movie, Dundee. Chris Hemsworth, Hugh Jackman, Margot Robbie, Russell Crowe, Isla Fisher, Ruby Rose, Liam Hemsworth, Jessica Mauboy, and Luke Bracey star alongside McBride in the commercial.
The ad follows McBride and Hemsworth as they experience all that Australia has to offer, like beautiful scenery and amazing wines. They even add a movie website to the end of the trailer that redirects to the Tourism Australia homepage.
Not only did the ad make smart parody of a movie trailer, the commercial was so popular that an online petition was launched for a real film to be made based on the mock trailer.
When Alexa is out sick, Hollywood stars step in to take her place.
Big names like chef Gordon Ramsay, rapper Cardi B, actress Rebel Wilson, and actor Anthony Hopkins take over Amazon's personal assistant when Alexa loses her voice. Even Amazon CEO Jeff Bezos takes a break from being one of the world's richest people to appear in the commercial.
This ad does a great job of humanizing artificial technology, one that many of us have already welcomed into our homes, and combating some of the negative responses that AI's like Alexa tend to get about being creepy. We also may be invested in changing Alexa's voice to Gordon Ramsey's permanently.
Dilly, dilly.
If you haven't heard this nonsense phrase in the past 6 months, you've probably been living in the Pit of Misery. "The Bud Knight" is the next installation of Bud Light's medieval-times inspired campaign that started last August.
In the first ad of the series, "Banquet," a royal court is brought cases of Bud Light as gifts, responding joyously to the gift with "dilly dilly." The phrase picked up speed and Bud Light has been creating spin-off ads while sports stars like Ben Roethlisberger started using it during games.
This ad introduces the Bud Knight, who shows up to a battle to pick up some Bud Light, but ends up saving a band of peasants from warriors from an army set on destroying them.
We're interested to see how long Bud Light continues the Dilly, Dilly theme in their ads, as it doesn't seem to be losing traction any time soon.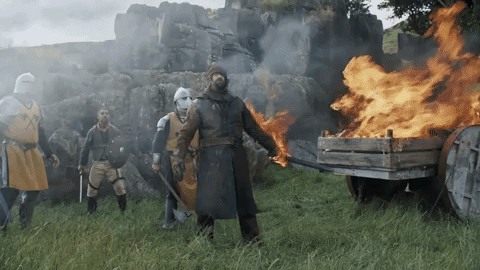 Ads That Missed The Mark
In 2009, Ram Trucks split from the overarching Dodge brand, but their advertising has still followed the same homegrown, ground-up, can-do attitude that both Chrysler brands share.
This time, Ram missed the mark with their Super Bowl spot that used an audio clip of the late Martin Luther King Jr., to promote the trucks. The clip is supposed to invoke feelings of greatness and share the message of "service". However, placing the audio of a civil rights leader who championed non-violence over a scene of soldiers just doesn't work and it feels like an exploitation of MLK's message.
While the message of the video is inspiring and starts to foster a sense of service, the ad created an instant backlash on social media and landed Ram in some hot water.
Wendy's has been known for it's tongue-in-cheek social media presence and how the brand responds to competitors on Twitter, but this ad called out McDonald's directly.
In the ad, Wendy's revealed a "not-so-hidden gem" from McDonalds.com that said: "Our beef is flash frozen to seal in fresh flavor," to which Wendy's responds with "The iceberg that sank the Titanic was frozen, too". The ad then went on to promote Wendy's fresh-never-frozen hamburgers.
Wrapping up the ad is a final image where Wendy's plays on McDonald's nickname the Golden Arches, stating "Skip the hamburgers at the Frozen Arches. Head to Wendy's and try a Dave's Double so you can taste the difference for yourself."
While their social strategy is incredibly successful with millennials, this is one of the first times we've seen that voice make its way to traditional advertising like TV commercials. The obvious jabs at McDonald's didn't seem to translate as well on a TV spot versus a tweet, and the ad felt like a disjointed attempt at "throwing shade".
Runner Up For Best Super Bowl Commercial Goes To...
Morgan Freeman rapping Missy Elliot is something the U.S. didn't know it needed. And apparently a rap battle between Peter Dinklage and Morgan Freeman is what we've been waiting for. Doritos and Mountain Dew delivered with their joint Super Bowl commercial.
In the ad for a new Doritos flavor "Blaze" and new Mountain Dew Ice pits the iconic stars against each other. The "Game of Thrones" star raps "Look At Me Now," while walking through a room of fire, and in response, Morgan Freeman sings Missy Elliot's "Get Your Freak On" while walking through a room of ice.
Not only is this ad fun and full of pop-culture, it's cool to see two brands collaborating to create something this funny for an ad spot. Like a cliffhanger coming from Game of Thrones, the ad ends as Doritos says "only one can win," and now we're all waiting for the conclusion of the epic rap battle.
While this ad doesn't win the exclusive title of Best Commercial, it was one of the best Super Bowl commercials for a variety of reasons. Not only was the use of celebrities on point, they replaced Morgan Freeman's famous voice with Missy Elliot, and the buzz that started on social media was insane. The brand reach was extraordinary, with thousands of people tweeting if they were Team #SPITFIRE or Team #ICECOLD.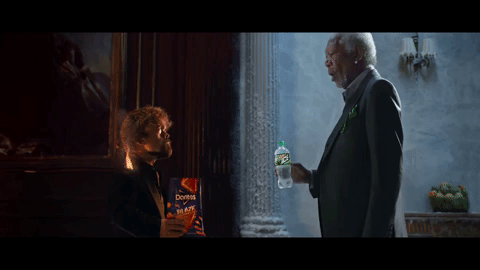 And The Winner Is...
Tide wins the title of Best Super Bowl Commercials, yes, there's multiple, for 2018. Not that they had much choice, with the whole Tide Pods thing.
Stranger Things's David Harbour appears in a series of commercials that start out like ads for cars, beers, diamonds, soda, mattresses, and deodorant. Each version ends with Harbour stating, "It's a Tide ad." Later in the game, Harbour crashes the recognizable Old Spice ad with Isaiah Mustafa on a horse and the hilarious dancing Mr. Clean commercial.
The whole gimmick is that "If it's clean, it's got to be Tide," and Harbour basically creates free promotion for the detergent when he asks "Does this make every Super Bowl ad a Tide ad?" It had viewers questioning any subsequent ad, no matter the brand, waiting for Harbour to show up with Tide in hand.
Tide had humor, smarts, and everyone's favorite sheriff on their side and they basically took control of the entire narrative around any ad during the game, which is why they win Best Super Bowl Commercials for 2018.
So let's hear it, what ad caught your attention (for worse or for better)? We want to hear it. While you're at it, join us for AMA Columbus' Big Game Ad Review Panel at Franklin University on February 8th to discuss the best super bowl commercials of 2018.