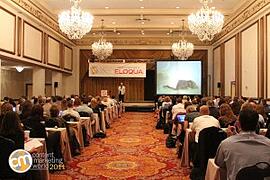 Marketing conferences seem to pick up again during the fall months, and this year our marketing circles in Columbus, Ohio have been given a very special privilege.
What to know what that is?
Content Marketing World is in Columbus, Ohio
(and attending will make you smarter)
You want to be a smarter marketer, right?
Joe Pullizzi and his crew over at the Content Marketing Institute have chosen Columbus, Ohio as the host city for the second annual Content Marketing World.
#CMWorld is one of the premiere marketing conferences that brings the most successful industry thought leaders together for three days in Columbus Ohio, to share insights, experiences and best practices on this new area of the art and science of marketing.
Last year, the inaugural event drew roughly 700 attendees from all over the world to converge on Cleveland and ended with rave attendee reviews about the experience.
If you missed it, I'm sorry to say you missed out on one of THE BEST marketing conferences of 2011.
But you're also in luck.
Content Marketing World 2012 is only a week away and there are only a few spots left that have been reserved for us Columbus locals. If you want to step up your marketing game, it's in your best interest to attend this event. Seriously.
I can also help you get there so keep reading and I'll show you how to save $100 off the price of an all access badge. More on that in a few...
These are just a few of the sessions that our team at Karcher Group is planning to sit in on so that we can get smarter too:
Content Marketing as Your Public Relations - Heather Whaling, President of Geben Communication
From 0 to 150,000+ Subscribers. Uncovering Copyblogger's Content Marketing Model - Brian Clark and Sonia Simone of Copyblogger Media
How to Reboot Your Content for a Mobile World - Mitch Joel, Author of Six Pixels of Separation
Understanding the New World of Klout, Social Sharing and Social Influence Marketing - Mark W. Schaeffer, Best Selling Author, Return on Influence
Scalable Content Strategies for Facebook and LinkedIn - Amy Porterfield, Author, Facebook Marketing All-in-One for Dummies
I'll also be presenting a new session at this year's conference.
If you're frustrated by Twitter and find yourself struggling to figure out how this channel fits effectively into your marketing mix, stop by my session and I'll show you a plan of attack that will help you and your brand win with Twitter.
Want to attend Content Marketing World and save $100?
The Content Marketing Institute folks have been kind enough to give all the speakers a code that we can use to give out to our loyal readers. That would be you, so here it is with a few easy instructions:
Visit Content Marketing World's registration page.
Look for the box entitled 'discount code' and enter in the code SPEAKER.
Follow the rest of the instructions in the registration process.
So what are you waiting for? Will I see you at Content Marketing World in Columbus next week?