Blogs are nice, and videos are cool, but podcasts are one of the most intimate experiences in the digital world. It doesn't matter where you are - working out, in the car, or taking a bubble bath - listening to a podcast is a beneficial experience.
There are plenty of podcasts available to choose from, but we did the work for you and narrowed it down the the five digital marketing podcasts you should be listening to. Each one offers its own unique take on digital marketing, but with the same value that you're seeking to gain.
This Old Marketing Podcast
Hosted by Joe Pulizzi and Robert Rose, This Old Marketing Podcast is a tribute to the fact that content marketing is one of the oldest marketing disciplines. People have been telling stories to attract and keep customers since, well, about the beginning of time.


Each show, which is less than 60 minutes, covers content marketing in the news. Joe and Robert give their perspective on current stories and how they impact the industry. Rant and Raves is a one-minute rant over something hard to digest about the current marketing landscape or something epic. There is also the Example of the Week, which digs into the vast archives of Content Marketing Institute and pulls out an awesome example of content marketing that still teaches a valuable lesson.
Social Pros Podcast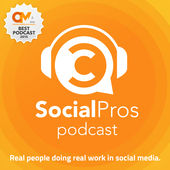 Jay Baer, a former Digital Skillscast guest, along with Adam Brown are the hosts of The Social Pros Podcast: Real People Doing Real Work in Social Media. Each episode contains insights from a top social media strategist and boasts work by people from real-world companies, along with current trends within the social media industry.
A unique feature is the Social Media Stat of the Week when Jay verifies or debunks a social media stat each week. The episodes close with "The Big Two", where guests give rapid-fire answers to two important questions.
Social Media Marketing Podcast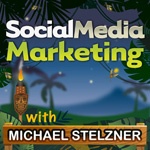 Straight from the Social Media Examiner is the Social Media Marketing Podcast, aiming to help boost your marketing skills and keep you in the loop with the ever-changing world of social media. Each episode covers success stories, expert interviews, and insights into how successful businesses use social media. They cover new strategies and tactics, allowing their listeners to gain actionable tips to help improve their social media marketing.

BONUS: Social Media Examiner also hosts Social Media Marketing Talk Show, a weekly live video that is dedicated to social media marketing. It's on Facebook Live, Periscope, and YouTube and available as a podcast. The schedule of shows is available so you know when to tune in, but if you miss a show, there is also a show archive.
The Mad Marketing Podcast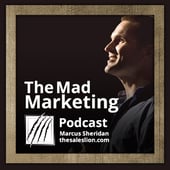 Straight from The Sales Lion, Marcus Sheridan hosts The Mad Marketing Podcast which differs from most. He rarely interviews other people but instead, takes questions from his listeners in his most honest and transparent voice.

As an extension of his blog, Marcus shares top-notch advice on marketing and thoughts as they form in his mind. He covers everything from SEO, selfies sticks, being sued, motivating employees, and his own content marketing secrets.
The GaryVee Audio Experience
Gary Vaynerchuk, an entrepreneur, CEO, investor, vlogger, and public speaker, hosts The GaryVee Audio Experience. It is a mix of #AskGaryVee show episodes, some of his keynote speeches on marketing and business, interviews, and segments from his DAILYVEE video series. He answers questions dealing with social media, marketing, and entrepreneurship almost daily. Using the hashtag #AskGaryVee, listeners can ask him questions on Twitter and tune in for his answers.

There's only five podcasts on this list but there are hundred of digital marketing podcasts out there. Feel like we left one out? Let us know!