Welcome back to the Digital Skillscast, our weekly talk interview podcast where we explore all of the angles of the "digital skills gap" with experts in fields that experience this gap firsthand. Most industries are now driven by technology, and so we look at how people's skills are evolving to be able to thrive in a world where software touches just about everything we do. We talk with educators who are doing pretty incredible things to keep up with the learning curve that technology requires.
In our last episode, we talked with Dan Day, the Assistant Vice President for Communications at Princeton University.
Dan oversees everything from Princeton's content and editorial strategy to the school's collection of social media accounts. He is also a life-long journalist who held positions with Associate Press and was around to see how the explosion of social media flipped the industry upside down.
In his interview, Dan discusses how technology in higher education changes the way that we communication internally and outside of the industry.
This week, we're shifting our focus to the software as a service landscape, as it relates to the marketing and sales profession. Our guest is one of the key influencers in the SaaS space.
Scott Brinker, VP of Platform Ecosystem at HubSpot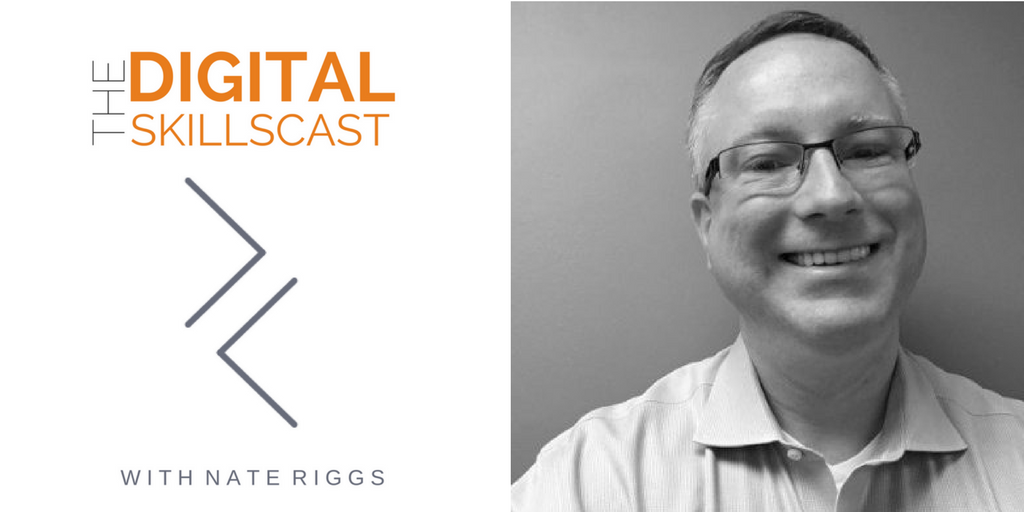 No Stranger to Software
Scott earned his undergraduate degree in computer science from Columbia University and went on to get an MBA from MIT, as well as a master's degree in computer science from Harvard University. During his career, Scott has been no stranger to software.
He actually started his career as a teenager, developing BBS software and dial-up multi-player games before the birth of the web. He went on to run a web technology consultancy that built early web apps for major names like CBS Sportsline, Tribune, the Miami Dolphins, and Fujitsu.

Scott then ran a successful web development agency, which built most of the web marketing infrastructure for Citrix. He also co-founded Ion Interactive, a software company that provides marketers with a platform for creating and testing interactive content, such as quizzes, assessments, solution finders, calculators, and more.
Chief MarTech
In 2008, Scott started the Chief Marketing Technologist blog that has grown in popularity since it was conceived. Many people know ChiefMartech for his graphic of the Marketing and Technology landscape.
Alongside his blog, Scott now serves as the VP of platform ecosystem at HubSpot. In this position, he helps the company create more synergy with the rest of the marketing technology landscape.
While the work Scott has done with his blog and his work at HubSpot, the real thing we wanted to talk about was his book Hacking Marketing: Agile Practices to Make Marketing Smarter, Faster, and More Innovative. I absolutely believe that his book should be required reading and coursework for every single student who wants to graduate with a marketing degree today.
So, What is Agile Marketing?
We're very familiar with agile marketing strategies at NR Media Group. Our director of client services earned her Scrum Master Certification last year and has started to implement a lot of agile concepts in our own processes.
So, what is agile marketing?
Agile marketing is the idea that the way we approach marketing absolutely must evolve along with the technology landscape, not just in terms of what consumers now use but also the tools available for businesses.
This is where that marketing technology landscape comes in. As technology evolves, consumers evolve, and the tools that marketers have available to them evolve. To compete in this field, marketers in all industries, whether higher ed, small/medium business, healthcare, etc, must evolve with their technologies.
Modern marketing has more in common with the software profession than it does with classic marketing management.
Why Should I Care?
Agile marketing isn't going away because technology advancement isn't going away. Access and options to different ways to do, well, anything, is far more abundant than it was 10 years ago.
It's crucial for leadership in any industry to enable agile strategies and test different technologies and plans to cater to what their companies and consumers really need and want.
This "test and learn" strategy relates to the trend of an internal agency, where companies try to have the internal talent to reduce outsourcing responsibilities. By adopting agile marketing and a rapid learning experience, companies can own their customer experience.
---
Definitely take some time to get familiar with Scott's website and purchase his book (just in time for a holiday gift). He has some really inspiring content that makes you look at marketing in a whole new way.
---