If you're new to following The Digital Skillscast, welcome! This weekly podcast covers trends in marketing, sales, technology, and higher education. The ultimate goal of the show is to gain the attention of faculty and administrators to move the needle closer to closing the digital skills gap.
This week, we have a very special guest from the University of Florida School of Journalism and Communication. Dr. Michael Weigold is the Ph.D. Associate Dean for Undergraduate Affairs and Enrollment Management. Listen in below as Dr. Weigold shares a little bit about his background in advertising research and how the Online Masters in Communication at the University of Florida serves students around the world.
Meet our featured guest - Dr. Michael Weigold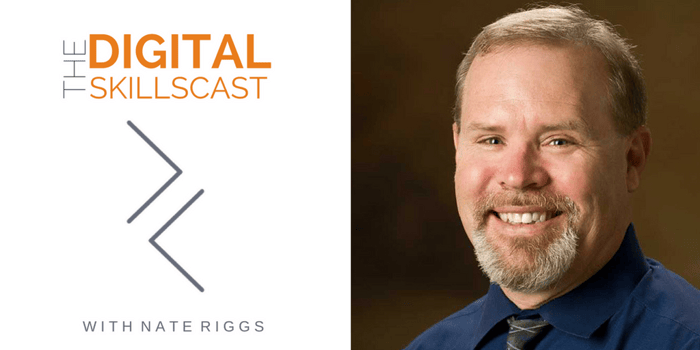 Michael Weigold is the Associate Dean for Undergraduate Affairs and Enrollment Management at the University of Florida. Dr. Weigold earned his Ph.D. from UF and currently teaches a variety of courses within the Department of Advertising. A few of those courses include:
Michael has also written over 40 different publications, some of which he uses to teach in his advertising courses. Such publications include Contemporary Advertising (over 14 editions), Health Communication, Journal of Personality, and a few others.
His research is focused primarily on health and science communication in addition to strategic communication. This research has led him to achieve many awards for both his teaching and scholarship. In 2007, Weigold won International Educator of the Year for the College of Journalism and Communications.
About the UF Master in Mass Communication
The Online Master in Mass Communication serves students all over the world. This program focuses on giving students who may not have the in-depth experience in certain areas help them acquire the skill set to be competitive for the very best jobs.
The program currently offers ten online programs that students can choose to focus on:
Audience Analytics
This area of focus trains students to analyze audience segments across a variety of platforms in order to develop actionable insights. In today's world of business, data is everything. Therefore individuals holding these skills are in high demand.
Digital Strategy
Strategy is essential in every aspect of digital marketing today, including but not limited to: lead generation, web design, conversion rate optimization, and more. Students who choose this area of focus will learn how to create digital strategies that drive conversions and revenue.
Global Strategic Communication
Successful corporations conduct business around the world. Students with this focus learn how to communicate effectively across a variety of cultures and locations across the world.
Media Sales
In an era of new sales, this program is designed for those who want to sharpen their sales skills for greater success. Students in this focus will expand their knowledge to truly understand the ever-changing media landscape.
Political Communication
According to the program website, digital politics has grown from a $2 million to $1 billion industry in only eight years. However, there are not many individuals trained with skills for this field.
Whether you want to work as a communication director for a major campaign or work in PR, this program would be the right fit for you.
Public Interest Communication
The public interest program allows students to gain a variety of skills in communication including public relations, journalism, political science, and more with the goal of producing qualified graduates to drive social change.
Public Relations & Community Management
Students learn the in-depth theories and practices of the world of public relations. Students in this program learn how to tell a business's story in unique and compelling ways.
Social Media
As Dr. Weigold mentioned in the podcast, this program is segmented into three pillars: creative thinking and problem solving, knowing how to engage audiences, and detailed understanding of social media metrics.
Web Conversion
Learn how to successfully generate and optimize content that will give a business its best shot at converting leads into paying customers.
Web Design
Currently known as one of the "hottest careers," web designers and developers are in high demand. This program will allow students to master a range of web design tools while learning code, design, and strategy.
As you can see, the University of Florida truly understands how the world of sales and marketing is changing. They are among a handful of colleges and universities who have developed digital programs that are working to close the digital skills gap. It seems that Centers of Excellence models and Master degree programs are on the path of least resistance to accomplish that.
How to Subscribe to The Digital Skillscast
Join other smart marketers who already subscribe on iTunes, Google Play, Soundcloud, and Spreaker.
Don't forget to subscribe to get new episodes sent directly to your inbox each week.