As summer is winding down, things have been ramping up here at the Digital Skillscast. We've had a lot of exciting guests in the past couple weeks and we're excited about all of the guests we have in line for upcoming episodes- lots of great information coming your way!
Last week's show was with my friend and popular Vlogger, Amy Schmittauer. To spread the gospel of vlogging, Amy self-published an Amazon #1 Best Selling book, Vlog Like a Boss: How to Kill It Online with Video Blogging. She has hosted classes on CreativeLive, and has online courses on Vlog Boss University.
Amy is helping to close the digital skills gap by providing resources for people to use to teach themselves.
A major part of closing the digital skills gap is education, and we're not just talking about conferences or online courses. One of our focuses at the Digital Skillscast is on higher education and we love to see how colleges are teaching their students digital marketing skills.
Our next guest has had his fair share of experience in sharing these skills with students through a unique and incredibly cool student marketing agency program at Baldwin Wallace University in Berea, OH.
Meet Tim Marshall, The Director of the Digital Marketing Clinic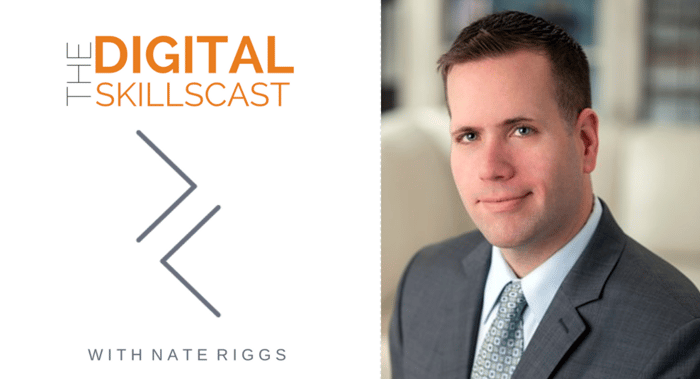 Tim Marshall is the Director of The Digital Marketing Clinic at Baldwin Wallace University.
Tim has significant experience in leading strategy and execution of digital and traditional public relations efforts for organizations across a wide variety of industries, including health care, higher education, and philanthropy.
He specifically focuses on social media, content marketing, brand strategy, and integrated marketing communications.
Tim's Work and The Changing Marketing Landscape
Tim's work has been recognized by the Direct Marketing Education Foundation, the eHealthcare Leadership Awards, and the Higher Education Marketing Association.
He holds a Master of Science in integrated marketing communications from Eastern Michigan University and a Bachelor of Science in journalism and public relations from Bowling Green State University.
Before coming to BW, Tim was working at another university and saw firsthand the come up of Twitter as a marketing tool. He was able to learn and grow with that platform and university to showcase the power of social media.
As technology was disrupting the marketing landscape, Tim realized that any literature and workshops were focused on teaching digital tactics to seasoned traditional marketers.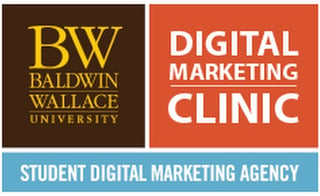 In order to close the digital skills gap that technology constantly creates, digital marketing skills need to be taught at the student level, bringing digital skills to a demographic that already keeps pace with new technologies; hence the DMC was born.
Tim is active on Twitter as @timlmarshall – and I am sure he'd be more than happy to talk about the program. Really exciting work is happening up in Berea, which is great for North Eastern Ohio's workforce development efforts.
How This Student Marketing Agency is Teaching Through Example and Helping The Community
The Digital Marketing Clinic (DMC) at Baldwin Wallace University creates opportunities that help students become successful in today's challenging and extremely competitive job market. By working with local businesses, students in the DMC help enable small businesses to thrive in the marketplace.
Beyond client work, the DMC offers campus events on digital marketing, networking with industry professionals and the chance to earn certifications like:
"The DMC provides paid, experiential learning opportunities for our students so they can stand out in the job market," said Tim.

---
How A Student Marketing Agency Helps Local Businesses
This experiential learning program matches teams of talented students with area small businesses, startups, and nonprofit organizations. Under direction from the DMC staff, the students will develop and deliver paid, earned, and owned media strategies that will involve tactics like:
Website development and management
Content marketing
Social media marketing
Inbound marketing
Digital marketing analytics
Search engine optimization (SEO)
Search engine marketing (SEM) and retargeting
Client training and support
The DMC provides businesses and organizations with an effective, research-based digital marketing strategy using proven inbound methodologies and the latest best practices.
Projects are tailored to client needs, but generally include a strategy playbook and a tactics ranging from building new websites/blogs, to social media launches and calendars.
Each client has a dedicated student team consisting of an account executive and 2-5 digital specialists who develop and deliver strategy and related content. Teams work under the supervision and mentorship of the Tim, who also teaches courses in digital marketing and social media at Baldwin Wallace.
Actively Working To Close The Digital Skills Gap
Through education, Tim Marshall has spearheaded the most logical charge in closing the digital skills gap. It makes perfect sense to teach students the skills they need in the workforce, before they get to it.
---