Welcome back to the Digital Skillscast, our weekly talk interview podcast where we explore all of the angles of the "digital skills gap" with experts in fields that experience this gap firsthand. Most industries are now driven by technology, and so we look at how people's skills are evolving to be able to thrive in a world where software touches just about everything we do. We talk with educators who are doing pretty incredible things to keep up with the learning curve that technology requires.
In our last episode, we talked with Scott Brinker of Chiefmartech.com and the VP of Platform Ecosystem at HubSpot. Scott discusses the connection between software development frameworks like Agile and how marketing organizations must change to keep up with changing technology and consumer habits.
This week, we're moving back into the higher education space and featuring a very well-known brand that is investing in developing and marketing an innovative new service, and one that colleges and universities everywhere are paying a great deal of attention – and for good reason.
Liz Gross,
Founding Director of Campus Sonar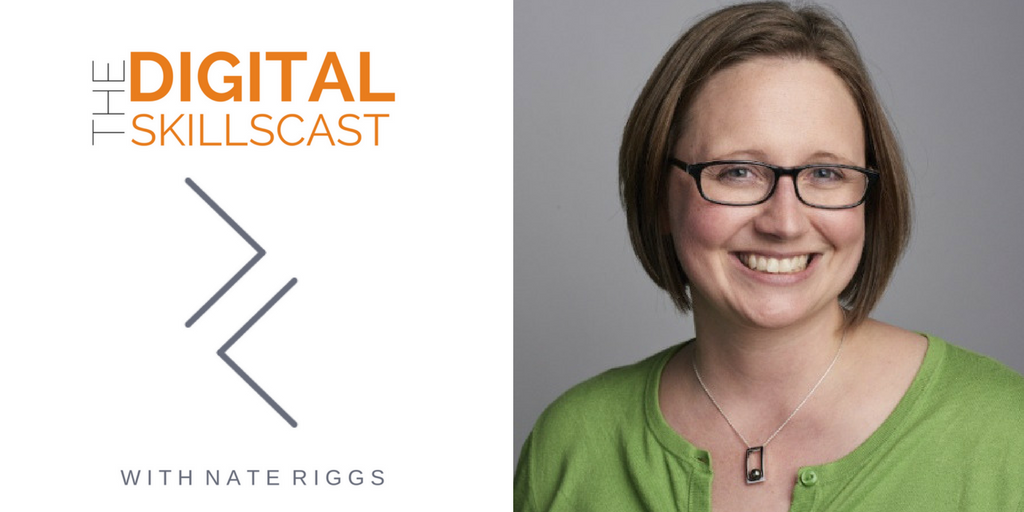 Social Media Renaissance Woman
Liz Gross received her Ph.D. in Leadership for the Advancement of Learning and Service in Higher Education at Cardinal Stritch University. Her dissertation research examined the relationship of communication methods and the frequency and content of college student interactions with faculty.
She is a higher education marketing and communications scholar, practitioner, speaker, author, and instructor, with expertise in social media. She's presented on the subject at events that include South by Southwest HighEdWeb, the American Marketing Association Symposium for the Marketing of Higher Education, the CASE Social Media and Community Conference.
On top of the laundry load of speaking and research work she's done, Liz is the founding director of Campus Sonar, a specialized social listening agency that is a start-up inside of Great Lakes – yes, the student loan people.
Social Media Listening in Higher Education Strategy
Social media listening is an abstract concept that isn't fully understood by higher education institutions, but 2018 needs to be the year where the value of listening is understood. Agencies like Campus Sonar give institutions the power to use social media listening to monitor and engage in the conversations that matter to them and their audiences.
Having these important conversations on social media meets students where they're already active, on platforms like Twitter, Facebook, and Snapchat. By monitoring the conversation and engaging, colleges and universities can help create positive brand relationships and impact with their audiences.

A lot of the lack of use for social media listening comes from lack of experience. Using complicated queries and technologies is crucial for getting the most out of your social listening, but many institutions don;t have the skill set to take that on. Campus Sonar actually serves as a way to close to the digital skills gap by handling the complicated side of setting up social listening, and then helping colleges and universities effectively use it.
---
As we've covered in several other episodes of The Digital Skillscast, colleges and universities now understand why they need to be in social media and publish content, and yet it seems that social listening is still this concept that's somewhat elusive in the industry.
People have heard of it, some institutions are doing it, but the large majority of schools are still struggling to really benefit from this dimension of social media. So, what needs to change for institutions to start using social media listening in their higher education strategy?
According to Liz, we need to see more institutions getting involved. The industry needs positive examples and case studies that show just how powerful social listening and interacting with students through social media can be. So, who will be the brave pioneers to get involved with agencies like Campus Sonar?
---