As a current Adjunct Professor at Ohio University, I always enjoy getting to speak with faculty from other universities. From discussions around curriculum to learning about new ways to improve the way my students learn.
This week, I had to the opportunity to speak with The Ohio State University Professor of Strategic Communication, Mary Sterenberg.
Mary is a professor of public relations and also advises the university's Public Relations Student Society of America (PRSSA) chapter. Listen to this week's episode as we discuss how she embraces a flipped classroom approach in her courses. She also shares information about a learning exchange grant that she recently received for the university.
About our guest - Mary Sterenberg, The Ohio State University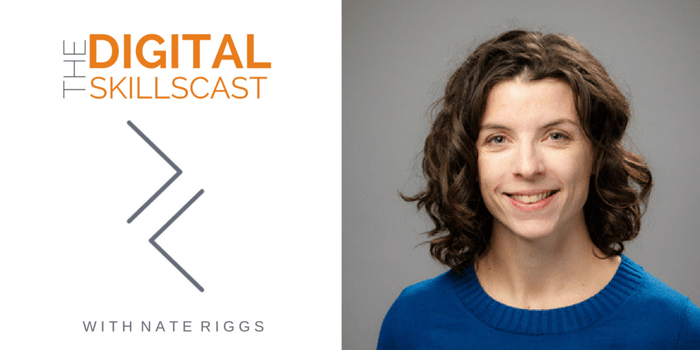 Mary Sterenberg is a lecturer of Strategic Communication and Adviser of the Public Relations Student Society of America (PRSSA) chapter at The Ohio State University.

As a faculty member in the School of Communications at Ohio State, she teaches writing and public relations courses such as writing for strategic communication, strategic message design, strategic media planning and public communication campaigns.

As a social media enthusiast, Mary developed an OHA social media presence with the launch of OHA Twitter, Facebook, and LinkedIn. She now works with students on the strategy and technology of professional social media use for individuals and organizations.
Taking a flipped classroom approach
Listen to this section of the podcast at 6:41
The flipped classroom is a new method of teaching that allows professors to step away from the traditional lecture format. Using this approach, course material and content is delivered outside of the classroom via online or through other similar formats. The normal class time is then used as "working time" where students will then apply their knowledge through a variety of practical exercises.
Mary shares that currently structures a majority of her classes this way and finds that students not only desire this format of learning, but also benefit from it.
Certifications are a great resource to utilize in a flipped classroom approach. Currently, Mary requires her communication students to pass the Hootsuite certification to obtain course credit. Through obtaining this certification, students will understand how to use social monitoring tools from a business perspective.
The Affordable Learning Exchange
Listen to this section in the podcast at 12:01
Mary shares some big news that she recently received a grant through the Affordable Learning Exchange. The program is a facet of President Drake's 2020 Vision to give students access, affordability, and excellence to higher education. You can learn more about the 2020 Vision here.
The specific grant that Mary received will replace one of her course textbooks with 8-10 videos featuring established professionals explaining the course content. These videos will work to replace the traditional lecture class with a more hands-on, applied course.
Learn more about the Affordable Learning Exchange in the video below.
How to subscribe to The Digital Skillscast
Join other smart marketers who already subscribe on iTunes, Google Play, Soundcloud, and Spreaker.
Don't forget to subscribe to get new episodes sent directly to your inbox each week by clicking the image below.