How to Improve Your Restaurant in the Mobile World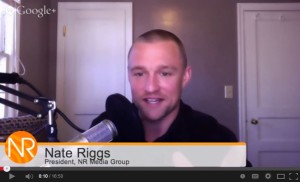 In this week's show, Brandon and I continue the chat on mobile payment, highlighting some restaurant systems who are developing partners with major technology companies like Google. We also look at a new review site and how it is changing the online restaurant world.
1. Dominos Wants To Give You Free Chicken Pizza For Paying with Google Wallet
2. NEW review and ratings social network for restaurants in NYC: Taste Savant
You'll also hear about some brands diving into SnapChat to reach new, millennial audiences and our take as to if this strategy is right for your business. Another topic discussed is the counter argument for online and mobile payment.
Watch the video to check out this week's regular banter.
This Week's Hangout Notes and Resources
Having a presence for your restaurant in the mobile world is important, but how can online and mobile payments improve that presence? Eweek says growth in the sector is slowing it's previous booming growth, and we discuss how this could affect your restaurant.
Snapchat, the popular photo-messaging app for millenials, has been used by Taco Bell as an advertising outlet. The fast food brand utilized the "Story" feature on the app to reach consumers of a younger age after they were approached with the idea by fans.
Google and Zagat have also come up with a handy feature for restaurant searches. Want to attempt it? Try this at home:
Go to Google and search for your favorite restaurant category and the name of your city.
See if you have been rolled out the search results like you see in our screen share. If you see a horizontal scrolling display of Zagat Ratings and Google Places, you are a winner!
Tune in Next Week
Brandon and I will be back with another episode next week. You can tune in on Thursdays here on my blog to catch the archived recording.
If you'd like to watch and participate in the live Google+ Hangout, we'll be broadcasting at 11AM EST on the This Week In Restaurant Technologies YouTube Channel.