We cover all sides of the discussion on how technology impacts sales, marketing, and higher education. We look at how people within admissions are using technology to recruit students and how those same students are learning to use technology in the classroom.
Maryville's Digital World Program is an initiative is a new model for higher education—one that is student-centered, accessible, affordable, academically rigorous and innovative in its use of learning technology and data analytics. We talked to the president of Maryville University on how this program came about, how it was implemented, and the future of programs such as this.
About Our Guest - Mark Lombardi, President of Maryville University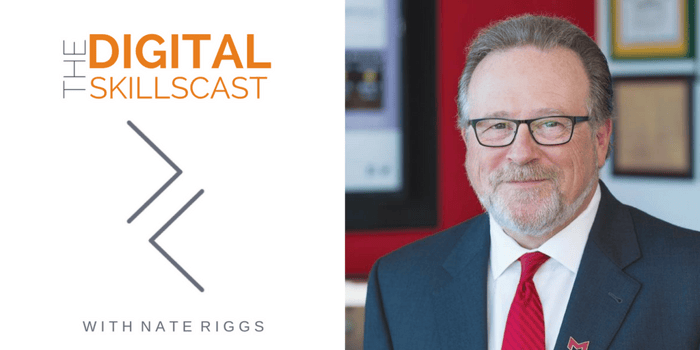 Dr. Mark Lombardi is the tenth President of Maryville University. Named President in 2007, Dr. Lombardi is recognized for a comprehensive career in academe as a faculty member, author, fundraiser, administrator and political commentator. He leads a university of over 6,500 students spread across two colleges and three schools (Arts and Sciences, Business, Health Professions, Education and Adult & Online), with over sixty majors, fifteen masters and eight doctoral programs.
Over 25 years at three different institutions, Dr. Lombardi has served in the positions of Director of the Baccalaureate Experience, Chair of the Department of Government, History and Sociology; Director of International Programs; Vice President for Academic Affairs, Provost and President. Dr. Lombardi also served as Executive Director of the U.S.-Africa Education Foundation. Dr. Lombardi attained the rank of tenured full professor at both the University of Tampa and College of Santa Fe and was awarded an honorary doctorate by the board of trustees of the College of Santa Fe in 2007.
Dr. Lombardi has had significant teaching experience in the fields of U.S. foreign policy, U.S.-Soviet relations, African Politics and Global Issues and received numerous awards for teaching excellence at Ohio State University and the University of Tampa.
Dr. Lombardi earned a Ph.D. and master's degree in political science and international relations from The Ohio State University and a bachelor's degree in political science from Purdue University.
What is the Maryville University Digital World Program?
The center of the entire strategic plan is the create an active learning eco-system with the students of Maryville being the center of that eco-system. The school outfits each student with an iPad that contains over eighty free apps with an educational orientation.
The faculty at Maryville was retrained in a teaching style that put the student in the center and allowing the student to work as co-creators of content for the course. This is done in a problem solving, experiential way while students are actively engaged in creating their own content. The key is the revised pedagogy, emphasizing that instructors are not gurus but they are guides.
The question is not longer how to give student access to content but how do you help the students to learn to take that content, assess it, evaluate it, and then incorporate it into a learning experience that is unique to them. The active learning environment empowers students and they create their own learning. The more involved you are in your own learning, the more you learn.
What are the Origins of the Program?
Mark Lombardi sites the seven to twelve faculty members that had already implemented this program into their own classroom as leaders of this effort. In 2014, members of faculty toured Apple and learned more about the iPad and the use of it as a learning tool. Ever since then, they have been continually implementing this program into Maryville.
When other faculty members were hesitant to embrace this change, they were shown how this could change the game for students in terms of engagement, depth, and scope of their learning. They jumped on board because they all share the same goal of creating the best learning environment for the students. Dr. Lombardi supported his faculty by providing them with professional development, giving them two weeks extra for their contract, and added to their salary in order to provide them the time necessary for the professional development.
What Is The Impact On Students So Far?
Maryville is still assessing and measuring the effects of this program on students, however the average class has seen a 10-15% increase in learning outcomes for the students in addition to an increase in retention and enrollment. Because technology allows the same students to learn in different ways within the same classroom, this program appeals to each learning style. This has brought upon higher levels of student ownership and engagement within the actual learning process.
What Are Future Hurdles To Overcome?
Dr. Lombardi says that constant connectivity to make sure everyone can learn wherever they need to is an ongoing effort. There has been a lot invested into the connectivity of the campus and has put Maryville in the top ten percent of connected campuses around the country. Dr. Lombardi says that maintaining this high level of connectivity will present future challenges.
Two additional hurdles that will need to be carefully addressed are the ongoing training for faculty and incorporating new technologies. Because new technologies are sprouting every day, such as virtual reality and augmented reality, they will become the next wave of personalized learning within the classroom.
What Made Maryville Successful?
Maryville is a private and reasonably sized institution, allowing the faculty that had already implemented this to lead the way. If this program were to begin at a larger university, it's possible that it may have to happen college by college, school by school.
Giving access to learning opportunities to all types of learners is the key to democratization of education, not only in the United State, but globally. This program ties back into Maryville's value system, which says that everyone has the right to have access to a collegiate education. If another school wants to implement this program, they have to recognize the tremendous positive aspects, rather than the negative and opposition that exists.
How to subscribe to The Digital Skillscast
Join other smart marketers who already subscribe on iTunes, Google Play, Soundcloud, and Spreaker.
Don't forget to subscribe to get new episodes sent directly to your inbox each week by clicking the image below.