Last week, I had the pleasure of attending the Association of Marketing Theory and Practice (AMTP) conference in sunny Myrtle Beach, South Carolina. This conference brings together both academic theory and real world business practices.
While at the conference, I was able to get some time to hear from Anthony Scardillo. I really enjoyed my conversation with Tony because his research around how to have fun at work is incredibly relevant to small business owners and students entering the workforce. Listen to our 12th episode of The Digital Skillscast where Tony shares more about his research and why he is so passionate about what he's studying.
About our guest - Anthony Scardillo, Doctoral Candidate at Case Western Reserve University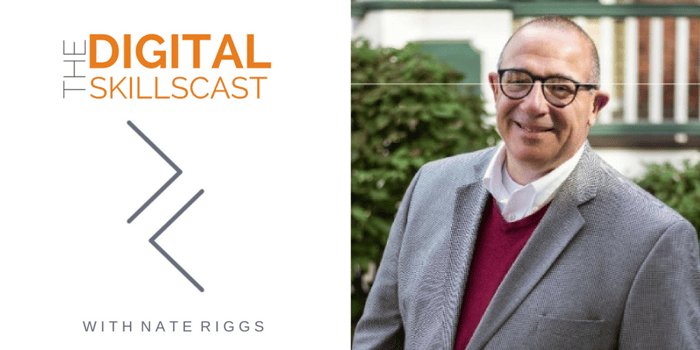 Anthony Scardillo is an award-winning marketing and advertising professional with over 30 years of experience in the field. His related experience includes international, national, regional, state and local advertising.
Currently, Tony is completing his Doctoral of Management degree at Case Western Reserve University. His research focuses on improving the workplace environment by creating fun and engaging cultures for employees.
This research is what Tony presented on at the AMTP conference and I found it extremely interesting. I've provided a few notes from his presentation below.
Are We Having Fun Yet? What Factors Influence Managers to Have Fun at Work?
According Anthony's research, he discovered that 73% of Americans do not like their jobs. Of that 73%, 13% actually sabotage the workplace. Throughout his presentation, he goes on to explain how today's workforce has an extreme increase in the reliance on technology. This results in discouraging managers from using their abilities to think critically and problem solve.
The end result? Managers are not having fun. Therefore, if managers are not having fun, then most likely other employees are not having fun either.
Problems that result from not having fun at work:
Although there may be a variety of different problems that stem from not having fun at work, Anthony explains three core problems that exist today:
Decreased productivity
Workplace safety
Job satisfaction
It's very evident how much of an impact that unsatisfied employees can have on a business. But one of the questions that I asked Anthony is what exactly does fun look like?
What is fun at work?
In today's business environment, there are a variety of different factors that could be considered "fun" at work. However, Scardillo's research indicated five different factors that will stimulate a fun working environment:
Mentoring
Challenging work that makes an impact
Empowerment
Peer/coworking relationships
"Fun" activities
Of the five factors listed in Scardillo's research, mentoring seemed to be a large topic of discussion around employee engagement factors. A large amount of research exists on mentoring but what his research found was that mentoring is a consistent feedback loop.
The more fun that the manager is having, the more fun his/her employees are likely to be having. On the opposite end of the spectrum, if employees are having fun, their manager(s) are most likely having fun too.
So how can businesses embrace a fun work environment?
Anthony advises any manager or business owner to do one thing when working to create a better work environment for employees - get out of the way. Although mentoring plays a big role in having fun at work, Anthony found that challenging and meaningful work as well as empowerment matters to employees.
AMTP 2018 Conference Details
Don't miss the AMTP 2018 conference. This event will be held March 14th - March 17th 2018 at the Marriott Sawgrass Resort in Ponte Vedra, Florida. You can find more information here.
How to subscribe to The Digital Skillscast
Join other smart marketers who already subscribe on iTunes, Google Play, Soundcloud, and Spreaker.
Don't forget to subscribe to get new episodes sent directly to your inbox each week by clicking the image below.