Strategy Consulting
Starting with HubSpot Adoption Scorecards for existing HubSpot users and Inbound Readiness Workshops for those exploring, we work with companies to establish strategic baselines, areas for improvement, opportunities, and goals.
From there we strive to be consistent and innovative guides when it comes to developing and continuously improving inbound and HubSpot strategies.
HubSpot Onboarding
Entering into your HubSpot portal for the first time can be a lot like entering an empty mansion and wondering where to begin decorating.There is a lot that goes into properly configuring a HubSpot system and doing this from the onset is crucial to starting off on the right foot and establishing a solid foundation.
Skipping those crucial processes up front is a lot like renting your mansion out to a group of college students on spring break – not a recipe for success and it may end up costing you more in the long run.
Brand Identity Evolution
While not a core inbound marketing concept, establishing a strong and consistent brand cannot be overlooked when it comes to the success and impact a company can have with inbound marketing techniques.
Before we ever touch graphic concepts, we work with companies through a series of facilitated brand positioning exercises to unearth what truly defines the essence of your brand and then use that to guide the full development of your new or revamped brand identity.
Website Design
Our systems expertise in the HubSpot Website Platform and Content Optimization System (COS) empowers us to help you marry creative design vision with a strategic inbound marketing and sales framework that results in more visitors, more leads, more customers, and ultimately revenue and bottom line growth.
Our web design capabilities include:
Webpage design and development
Landing page design
Call-to-action creation
Blog design
Email template creation
Campaign Execution
A full inbound campaign can run the gambit of digital marketing tactics – including email, social media management, blogging, landing page creation, calls-to-action, workflows, list management, FB advertising and PPC, reporting analytics, and on and on.
As true hybrid marketers, NR Media Group's consultants have the chops to do it all within HubSpot's integrated platform.
Content Production
The heart and soul of modern marketing, no inbound marketing techniques or software programs can succeed with out a rich and consistent content program.
Most marketers know this but they either don't have the time to manage it or they simply don't know the techniques to execute it intelligently or efficiently. Through facilitated sessions we help you through the ideation, creation, and distribution of a full content strategy.
Closed-Loop Reporting
The age-old issue with marketing of not being able to prove ROI and track the consumer journey with pristine accuracy is an issue no longer. Closed-loop reporting is one of the best features of HubSpot and inbound marketing that shows you your customers' journeys from start to finish and gives you strategic insight into exactly what your best assets/tactics are.
In many ways closed-loop reporting is also closing the loop on the other age-old problem - the disconnect between sales and marketing.
Combined with an integrated HubSpot CRM, closed-loop reporting has the ability to create real and lasting change and tear down the previously siloed company cultures of yesteryear.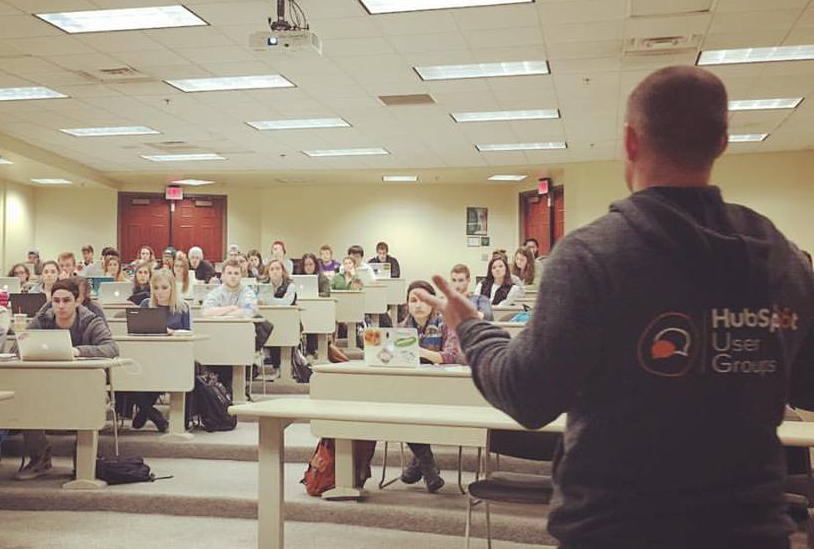 Talent Placement
Founder and CEO Nate Riggs has an innate passion for teaching and when he isn't working hard for NR Media Group's clients he is teaching at the Ohio University as an Adjunct Professor of Marketing.
Nate's class focuses specifically on educating students on the inbound methodology and all students exit his class with actionable knowledge of inbound marketing tools and their HubSpot Inbound Certification.
We help clients source top-talent straight from the classroom and provide additional training to take their skills from good to great.
Coaching and Training
One of our primary differentiators from most marketing agencies is that our ultimate goal is to get our clients self-sufficient within 2-4 years. The truth is HubSpot and inbound marketing were truly designed to put the power back in the hands of the marketer, and we believe marketers internally within their own companies.
So because of this we have become experts in coaching and training on HubSpot and the inbound methodology. Most of our clients follow a graduating progression that starts out with heavy execution from us and then steadily focuses on building internal capacity so that you only need us for deeper strategic consulting and the occasional friendly check-in.
It's a bit like sending your kid off to college – sad, but hey, everyone has to grow up eventually, right?