Lucky enough to land a job that allows you to work from home? Or maybe you're an entrepreneur or freelancer and run your business from home. Either way, staying productive and efficient are crucial to successfully working from home. Whether it's your honey-do list, kids and/or pets, or your bed is just calling your name; there are distractions everywhere.
Everyone in our agency enjoys the freedom of being able to work remotely a couple days a week, so we put together some tips for working from home and even shared some pictures of our favorite home office spaces to help you get the most out of working from home.
1. Plan Your Day
Having a set schedule can really help keep you on track for the day, especially when you don't have your work desk with any notes/reminders in front of you. I personally write down any tasks I know I have on my plate for the week and take a picture of it on my phone so that I always have it. Plus, the act of writing it down helps me keep tasks in the top of my mind, and I LOVE the feeling of satisfaction that comes with crossing something off of my to-do list.
I also like to add tasks to a Google Calendar. This is really helpful because you can set desktop, mobile, and even smart watch notifications to remind you of tasks as they come up. Having these reminders can help if you're distracted by something, and helps to refocus you on work.
The key thing to remember is to leave a little flexibility for your tasks to be shifted in length or time as things come up during your day. This helps you give your day structure, without being restrictive. Figure out what method works best for you and stick to it.
2. Have a Designated Workspace (and enjoy it)
For me, this is by far the biggest (and more enjoyable) part of working from home. By creating a work space for yourself, you can separate your home and work and avoid just surfing the internet like you would if you were just sitting on the couch.
Find a good desk and chair, add some personal touches, and create a space that you actually enjoy being in, so that work doesn't feel like work. Make sure that you have a space with room for your computer, plenty of outlets, and good lighting if you're going to be working late.
Regardless of where your space is, make sure it's somewhere you don't mind spending a lot of time.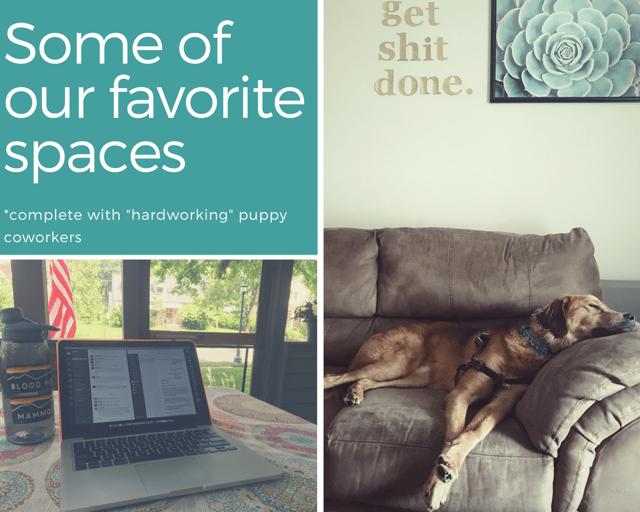 3. Take Breaks
Taking breaks is important to any job, whether you're in the office or at home. Sitting at a desk for too long is detrimental to your health and your focus. By planning breaks throughout the day, it can help you to not get tunnel vision with work, especially if you're working on a long project.
Set a timer or reward yourself with a break after accomplishing a certain amount of tasks. Having breaks is also effective if you have kids or pets at home because it gives you a chance to spend time with them and recharge before refocusing on your work.
Get up, stretch, make sure to eat if you need, spend some time with family, go for a walk; there are so many ways to give yourself some time to refresh instead of burning yourself out by working every minute that you're home. One of the perks of working from home is that you get to actually be home, so enjoy it!
4. Invest In A Good Chair
After working from a folding lawn chair for a month after we moved, I can't stress this enough. We like our beds and couches for a reason...they're comfortable. Guess what happens if you hate your chair? You're not going to sit in it.
For people that work a lot of hours at a desk, get a chair that is comfortable to sit in and gives you back support so that you don't injure your back or spine.
Some people also really enjoy sitting on yoga balls or investing in a standing desk. Look at all your options and give them a try- you're going to be spending a lot of time in this seat, so make sure you like it!
5. Focus on Communication
When you're in the office, its easy to talk face to face with a coworker since they're right there and you can see when they're busy or not. When you work from out of the office, you have to rely on online communications like email, and lets face it; email isn't the most effective communication method for quick/short responses.
Our team lives on Slack, which is like a workplace chat room. We have different channels, private messages, and even a space dedicated to cool s*** we find online. By having an effective means of online communication, you can stay in touch with your team, even if you aren't there.
---
---
6. Don't Wait To Start Your Day
It's tempting to sleep in and get a slow start if you aren't worried about getting to the office at a certain time. While it's ok to give yourself a little more time to sleep, don't waste your day away. Once you get a late start, it's hard to get into your normal work rhythm. Plus, if you have a lot to get done, you'll find yourself working later in the day.
Instead of sleeping in too late, make time for those short breaks we talked about to break up your day.
7. Work At Your Home-Away-From-Home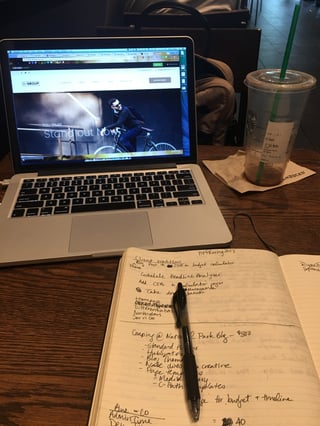 Maybe your productive space isn't at home, or you get burnt out there just like at the office. That's ok! One of our team members actually prefers heading to Starbucks and plugging away at a comfy booth for the day if she's working from "home".
If you have a favorite hangout spot that has WiFi and outlets to stay charged up, (bonus points if it has coffee), there's nothing wrong with packing up and heading there to get some work done, just make sure that you have headphones in case it gets loud!
---
Getting out of the office and working remotely is a great opportunity, but it can quickly become an unproductive way of working. Make sure to become aware of the distractions and issues that come with being out of the office, and prepare for them!
By using these tips for working from home, you can get the most out of your work day while enjoying some freedom.