SEO, or Search Engine Optimization, is the practice of using keywords to drive traffic to your website. By using keywords effectively, you can optimize your content to rank on Google's search results pages. SEO is key to a successful online marketing strategy, but can be an overwhelming task with lots of opinions around it.
Some SEO myths are as old as SEO itself. Over the years, many of these myths have fallen by the wayside for a variety of reasons, including Google algorithm changes. To this day, some SEO myths continue to trick people into spending a lot of time and money on them, all for nothing.
Stephanie Santos is a writer for My Biz Niche. She's been writing about Search Engine Optimization and web design for some time now, but she also enjoys writing about various topics related to the Internet and consumer electronics. She put together a list of 17 of the top SEO myths to ignore, all in a handy infographic to make them easier to digest.
1. SEO Gets You Quick Results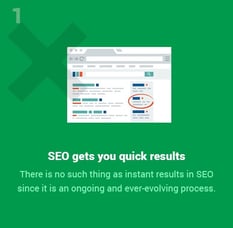 The business of optimizing websites for search engines began in the mid-90s. More than 20 years later, SEO continues to evolve and will continue to do so.
With all these constant changes, it is impossible for anyone to guarantee instant results. Plus, organic rankings take time. Think about it, you don't trust someone the moment you meet them...Google needs time to get to know your site and see if it's a trusted resource.
2. You Only Have To Worry About SEO Once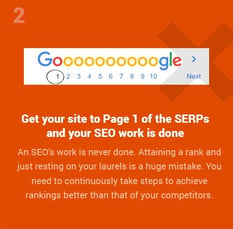 Google rankings are inherently unstable. So don't go resting on your laurels if your website hits Page 1 of the search engine results page. Remember, SEO never sleeps. If you do, then you might just wake up the following day to find your site knocked back to Page 10 or worse.
Your site, just like your business, has competition, and you're both competing for that prime real estate on the first page. To keep your spot, you must continue to create relevant content and build organic traffic.
3. Older Domains Get Better Rankings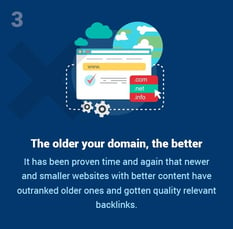 While having an older domain helps your domain authority, it doesn't guarantee your results. Newer and smaller websites have already debunked this myth through the years. Great content and web design have catapulted them to success and have left older sites eating the dust in their wake.
SEO is the combination of several factors, like keywords, domain age, types of websites, etc. There is no one deciding factor for whether or not your site will rank, but actually a combination of all of these things.
4. Keyword Research Doesn't Matter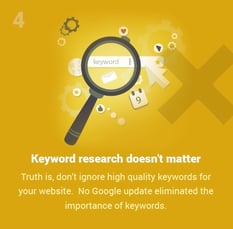 Google has made several updates to its algorithm, but none of them ever said keywords don't matter anymore. Keywords are the most effective way to rank organically in the search engine results.
By using long-tail keywords that have a decently low difficulty score and high monthly search volume, you can increase your probability of ranking for those terms. Keyword research is important because it helps to determine what keywords to shoot for, and how much of a chance you have to rank for them.
5. Guest Posting Is Dead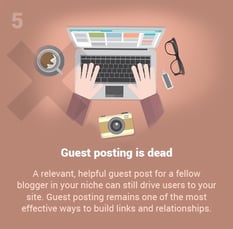 Guest posting being dead is a relatively recent SEO myth. To this day, guest posting is still a very effective way of building relationships with other bloggers in your niche.
By utilizing guest posting, you can include easy outbound links on your site to the guest's site. In turn, that guest will most likely want to promote their guest post, so they will share that content on social media and probably provide backlinks to your site. This is an easy way to drive new traffic to your site.
6. Education and Government Sites Have The Highest Authority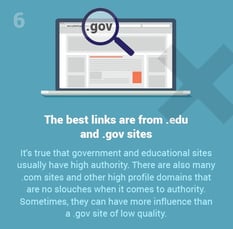 While it's true that high authority is typically associated with government and educational sites, many .com sites have equally high authority. Some may even be more influential than a low-quality .gov site.
Much like with the older domains myth, great content and optimization techniques can help boost a .com's ranking over a poorly optimized .gov or .edu.
7. You Can Boost Your Google Rank With A Dedicated IP Address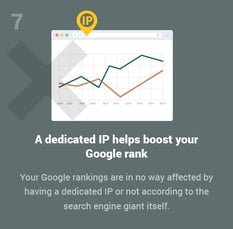 Google has already stated that a dedicated IP does not inherently damage your SEO ranking. For some reason, there is still lingering confusion about this issue, and there are still numerous articles out there that support this myth.
While it doesnt hurt to have a dedicated IP address, it isn't something to look into and run the risk of scams for or buying into purchasing old, expired domains.
8. You Need To Have External Links to Rank
Any site can just link out to other websites, but getting backlinks are what help your rankings. Going back to Myth #1...Google wants to know if you can be trusted before they out your site front and center on page one of the search results.
By getting multiple backlinks, or other sites linking to your site, it shows Google that you have content that people want to reference and use and that you are a trusted source of information. Google can also tell when the links are coming from spammy IPs, so don't think you can trick the search engine.
---
---
9. SEO Only Matters After Your Site Is Completely Built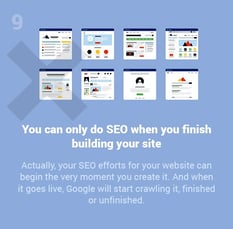 You can start optimizing your website the moment you create it. Google will also automatically crawl your site when it goes live, whether or not you're done building it.
By using customer driven design practices and making website edits after a soft launch or user testing, you can see how people are interacting with your site. Google doesn't just crawl your website once, so don't worry about making page edits on new websites.
10. Great Content Alone Is Enough To Rank High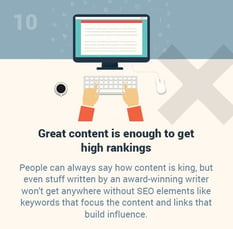 Excellent and compelling content is highly coveted, but way more people are going to read and appreciate it if it's fully optimized, complete with relevant keywords and influence-building links.
Think about it; if you see a really well designed and well-placed article, you'll probably want to read it. But what if the content isn't really all that great, are you going to continue to spend time on it? Good content and SEO need to go hand in hand.
11. Any Inbound Link Is A Good Link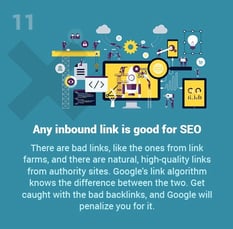 This myth has resulted in Google penalties for countless websites, especially those with bad backlinks from bots and spam websites that allow you to pay for fake backlinks.
Google's link algorithm can tell if your inbound links are good ones from sites with high domain authority, or bad ones from spammy or paid websites, so beware. Getting a penalty from Google can make it harder to rank for keywords. Don't waste your time or money on trying to cheat the algorithms.
12. Constantly Posting New Content Is Necessary for Ranking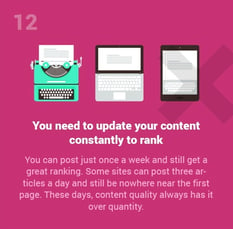 You can post three to four articles a day and still not rank. Some sites post once a week and enjoy high rankings. It's all about the quality of your content and optimization, not the quantity.
While posting frequently can help you rank because it gives you more opportunities for ranking keywords, it doesn't guarantee that any of your pages will make it to the top 10 search results on Google. Focusing on keyword research and effective optimization is the tried and true way to rank.
13. You Don't Need A Blog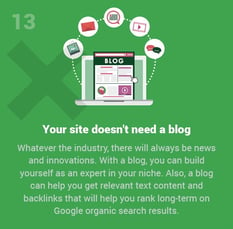 Blogs have always been useful for establishing your credibility as an expert in your niche. Blogging allows you to show your knowledge on topics that are relevant to your audience. It also gives people something to share and link to, expanding your reach and influence.
Aside from delivering constant and relevant updates in your industry, you can also get relevant text content and backlinks through blogging.
14. Internal Links Aren't Important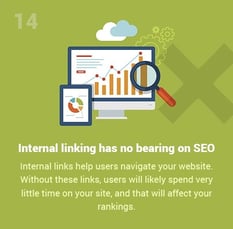 Navigating your site is easier when you have internal links, and users typically spend more time on sites that are easy to explore. The longer users stay on your site, the better for your rankings.
By using internal links effectively, you continuously engage users with your content and provide more opportunities for them to convert or share your content.
15. Your Site Doesn't Need To Be Mobile Responsive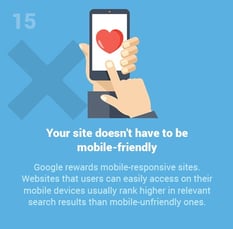 Mobile-responsive sites usually rank higher in relevant search results than those you can't easily access on a mobile device. People are constantly accessing sites from their mobile phones, meaning mobile responsive sites are a necessity to keep people engaged.
Your customers are people just like you, and we all know how frustrating it is to try to pull up a site on a phone screen that isn't responsive. It immediately turns you off of the page. Meet your consumers where they are...on their phones.
16. SEO is Dead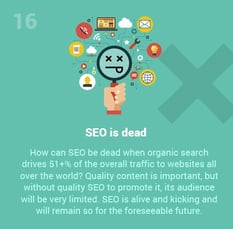 While SEO is NOT dead, the way that you're doing it might be. Does the following describe your approach? Barely putting any effort into your keywords, half-heartedly optimizing headings, and sitting back to watch your site rise to the top of Google doesn't cut it.
Organic search drives 51+% of the overall traffic to websites all over the world. This myth should be dead. SEO is often proclaimed as "dead" for keynotes at conferences and click bait on social...it's not dead, it's just changing.
17. SEO Can Be Automated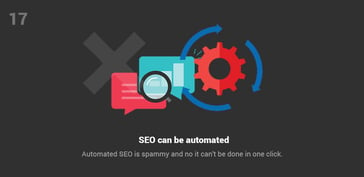 Google has been around long enough and made enough search engine updates to know when links aren't coming from respected sites, and when keywords are just being thrown into a post in the hopes of ranking. There is no such thing as one-click SEO.
---