Look down at your phone.
Now look back at the article.
Now back to phone.
Now bring your eyes back to the article.
It's a process we do frequently throughout our day, and it's often because of social media.
That's not the only change technology is making to our daily lives; it is changing how we interact and how we feel about ourselves.
How is social media affecting our communication?
A Study on Social Media
In a survey administered to over 800 college students, questions were asked about their social media habits. It explored how students saw the role of social media in their personal lives, including how they read news, practice politics, control privacy, leisure, education and create and maintain relationships.
Judging by their responses, let's explore how social media is an inclusive tool for engagement in daily life.
The Takeaways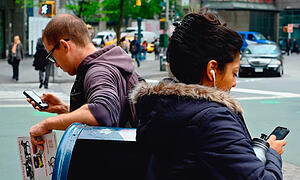 The emergence of social media has created a new avenue for facilitating daily information and communication needs.
As technology grows and expands our range of communication, social media is becoming a vital tool for daily social interaction. It creates opportunities for people to interact with each other in the way that is both helpful and essential to socially motivate people.
This rapid-fire quick communication style that captivates millenials and other generations has shifted our conversations from face-to-face instances to through-the-screen ones.
With the shift from face-to-face conversation, are we missing out on being in the moment or losing the ability to sense how someone is really feeling as they relay a message?
Turns out, there is substantial research documenting how our technology habits have led to a decline in communication skills among our generation.
Exactly how is the decline in communication skills adversely effecting our lives?
Social Media Effects
Social networks have become the central facilitators for daily communication with peers, family and acquaintances.
When asked about the effect of social media on friendships, 39% of the survey respondents reported feeling closer to their friends because of social media, while 26% of the sample felt that they had more friends because of social media.
Social media has led to the era of virtual relationships, and people are simply communicating differently.
Without face-to-face interaction, people's candor has been observed as having changed. With such large platforms and comparatively low consequences, people are saying things they would not normally communicate with others.
Personal Takeaways
Our communication over social media is affecting our relationships both positively and negatively.
Young people are using social networks to engage in various content and express themselves not only for socializing and leisure, but also for public issues or topics of interest.
Generations are learning how to connect, network and share via social media, and social media can facilitate face-to-face conversation with others; however, it can also serve as a replacement for such interactions.
Regarding the former, I utilized Twitter to reach out to a Director of Digital Media at a prominent college athletic department in the SEC. In under fourteen hours after that first tweet was sent, I was in his office talking about social media, sponsorship and more.
Continuously, research is building a growing body of knowledge on digital culture and engagement to explore how our perception of social media influences our engagement in daily social life.
What positives have you experienced through social media?
How have any negative experiences affected how you utilize your social networks?