Creating content can be a daunting task if you don't have a "creative" on your team, but it doesn't have to be. When it comes to producing successful content like images, blogs, infographics, buttons, and mailers, etc, there is a need for both visual and written talent. The truth is, there are a lot of content creation tools out there that are cheap or free to use that make things like writing and designing content very easy. Over the years, we've learned a lot of tricks to fake it 'til we made it...
Canva
Canva is a great tool for content creation that lets you design anything from blog/email headers to flyers. With a very easy to use interface and an extensive catalog of stock images, this tool is a marketers dream.
Canva also features pre-made templates, graphic elements like shapes and frames, and typography templates. You can also upload your own logos, color palettes, and creative assets for easy access while designing. Most content is free to use and download, but some photos and illustrations cost a few dollars.
Stock Photo Databases
While it's always best to use custom photography in your content, stock photo databases like Pexels offer a wide variety of stock images shot by professional photographers. The images are tagged with their theme or subjects, so you can easily search by a wide variety of terms to find exactly what you need.
All photos can be used for free, even if they are being used for commercial purposes, and are high resolution.


Another great option for free stock images is PikWizard. This stock photo database includes a lot of images with real people in them, giving you plenty of authentic images to use for your content.
Hemingway Editor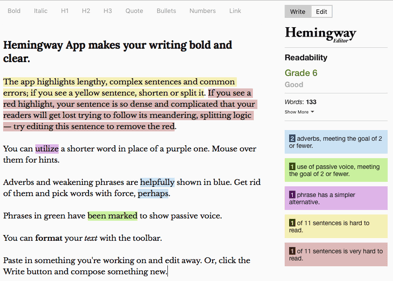 Hemingway is great for making your posts easy to digest. By looking at sentence structure and word choice, Hemingway grades your post on readability.
This tool uses color coding to make the grade easy to process and understand, and it even makes suggestions on how to better your post. It comes complete with formatting abilities, so you can type a post directly into Hemingway before moving it to your blog. Hemingway's online app is totally free to use, and the downloadable desktop app is only a couple dollars.
Adobe Kuler
Kuler is a great tool for branding and selecting colors. You can create customized color schemes with a color wheel or browse thousands of combinations that other users have created.
Not only is this service free, but it offers different plug ins and extensions for applications like Photoshop and InDesign. Plus, you can access the color codes in different formats, like RGB and HEX. Use Kuler to get inspired by color and bring your brand to life.
---
Want to learn how successful companies are using Snapchat?
---
Infogram
Create stunning infographics that boost visitor engagement and traffic on your website or blog with Infogram. With over 35 interactive charts and more than 500 maps to help you visualize your data beautifully, you can create a variety of charts and maps.
Infographics provide a great way to showcase data that could otherwise be lost in heavy numbers. Infogram offers limited free services and a variety of pricing packages for users who want more options.
HubSpot's Blog Topic Generator
Stumped on what to write about for your next blog post? Look no further than HubSpot's Blog Topic Generator. All you have to do is enter in three nouns that are relevant to what you want to write about, and HubSpot will spit out a week's worth of potential blog topics to write about. This tool isn't perfect, but it's a good start for generating new ideas and brainstorming new content.
I typed in "dogs, content, and marketing" and these were my results:



Scripted
Ok, so this one is cheating a little bit but Scripted is a great resource for blogging if you can't write to save your life. It's also a great fit for certain clients that need extremely specific topics that you aren't experienced in.
Scripted isn't a free service, but there are different price points for each writer that you can hire, and the length/style of the post impacts price as well. You can set up guidelines for writers to use for every post save your favorite writers for quick access whenever you need a post.
CoSchedule's Headline Analyzer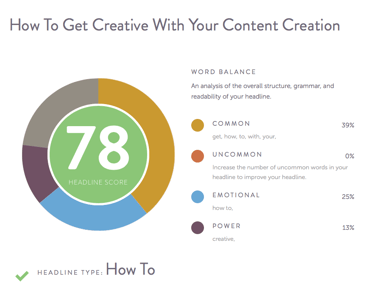 Game-changer, that's all there is to it. We learned about CoSchedule's Headline Analyzer during Social Media Week and haven't looked back. This tool is so simple to use and gives you a very clear breakdown of the elements of your headlines and blog titles.
Simply input your title and CoSchedule gives you a grade based on how common, emotional, and powerful your word choices are. The tool is completely free and we use it for every blog post that we create to make sure that we're putting out engaging content. The title of your post is one of the first things that readers will see, so why not take five minutes to make sure it's just right?
Go Forth and Create
We've armed you with our favorite tools for content creation so you may go forth and prosper...or something like that. Be sure to check out this list of even more content creation tools that HubSpot put together. Have your own tools that you want to share? Drop them in the comments below so we can stay up-to-date on the best tools of the trade.