Michael Vick is quite controversial these days. His return to the NFL after time served, and his subsequent re-rise to fame as the quarterback of the Philadelphia Eagles has people talking.
It's interesting that Vick's story - and his history in dogfighting - was one of the first topics I ever wrote about on this blog. For those who don't know, I'm very much against dogfighting. It's a disgusting and dangerous criminal act, and the punishments should be more severe than they are. But that's my opinion.
Vick seems to be genuine in making a turnaround. The proof will always be in the long-term pudding, but so far, so good. Aside from last night's 24-14 loss to Minnesota, he's playing well and keeping out of trouble. President Obama had reportedly even placed a call in support of Eagles owner Jeffrey Lurie, praising his decision to give Vick a second chance at taking snaps.
Media Cycles and Brand
Vick is a brand in the re-making. It will still be a long time before his armor is free from dents, dings and tarnish. In fact, because of the new internet conversation cycle for brands, his brand may never be fully restored.
Below is an example of what I mean. This segment was broadcast within the last 12 hours on Fox News (television). The shortened clip (a media object) was posted on YouTube today. Things happen pretty fast in the media - all media.
If you can't see the video, click here.
[Side Note: I can't help but find the irony a bit funny when Tucker Carlson states that he's a Christian shortly after calling for Vick's execution. Yep. He's kind of a d-bag.]
Obviously, strong and controversial statements - like that one - get attention and comments. Here's what Google showed me this morning as to what was happening in real time: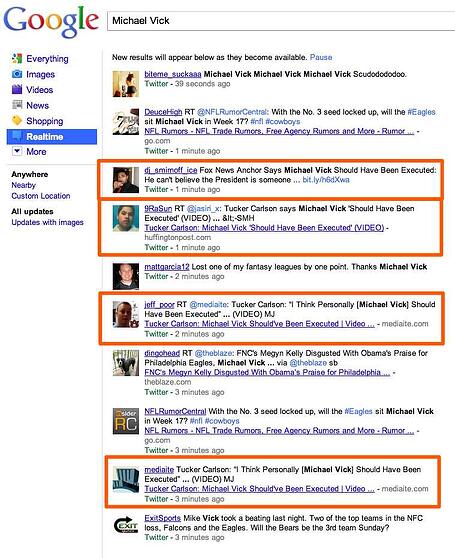 That video is getting shared a few times each minute, maybe more.
People are already posting reactions on their blogs. We might even see a parody video in the next day or two. Those spread fast too, and they sometimes even end up back on television. You'll probably see a few articles in your local papers or even a magazine or two. Some of the bloggers who wrote their opinions early might even be quoted in those print articles. Those bloggers might then write follow-up posts that mention their quote in the print article.
And thus the cycle turns, and turns, and keeps on turning.
Ripples in Your Brand
While Vick is an extreme example, this new type of media cycle happens all the time. We humans take advantage of real-time communication technology, internet communities and content publishing tools that are becoming easier to use as each day passes. We make ripples faster and more efficiently than we ever could before.
From the brand perspective, that's kind of scary.
It's scary because no matter how hard you try, you will never again have complete control of your brand - the human or business kind. Whether you're an NFL quarterback, a mega corporation or a local shop, your brand is controlled by the people who engage with it in any form of media - not you, and certainly not your advertising agency (no matter what they tell you).
Choose to Make Your Own Ripples
That outlook seems bleak, huh? If we have little to no control over our brands, then what do we have?
Influence.
Brands, and the humans who steward them, have access to most of the same tools and conversations that their customers or constituents do. But here's the catch. Your brand must choose to play. Your brand must make the conscious decision to let go of the fallacy of control, driven into our heads by traditional brand marketers who've not changed with the media. If markets are conversations, then your brand must join them by letting humans participate in real time and in their own way.
Think about this: What if Vick was active on Twitter? What if he had a following? What would happen then?