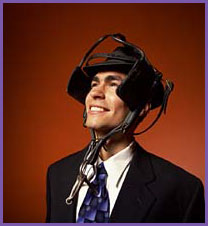 At some points during my career, we've all been guilty of wearing blinders.
The problem is, keeping our attention focused inside of the same safe industry fishbowl. When we do that, we often miss outside opportunities that help us to grow our knowledge and experience.
Sound familiar?
I'm willing to bet that for you've find yourself stuck wearing blinders as well. With the year just about half past, you might already be thinking about your next event to attend.
Please ... head my suggestion if you are looking for marketing conferences in 2013.
Ready?
Tear Off Your Blinders
If you're on a quest to figure out content marketing and social media, and how your brand can benefit from using these new ideas, strategies, tools and tactics, I want to encourage you to make this the year that you jump out of the comfort the usual industry events your frequent and take a swim in a new fishbowl.
Today, nearly every niche-industry conference is full of tweets, content and the like. But, trust me when I tell you that making a trip to experience marketing conferences in 2013 that is focus on content and social media will be an experience that will teach you a lot.
Here are a few remaining marketing conferences in 2013 that I recommend. The content and sessions will be excellent, and the social and networking events will allow you to meet some of the brightest minds in the content and social media space.
If you decide to attend any of these marketing conferences in 2013, shoot me a tweet or even email me to let me know you'll be there. I'm honored to be speaking alongside some very savvy folks that include Marcus Sheridan of the SalesLion, Brian Halligan, Co-Founder of HubSpot and co-author of a super cool book entitled Marketing Lessons from the Grateful Dead, and even Tiffany Sauder, President of Element Three, a unique and progressive midwest digital marketing agency.
Who knows -- maybe you and I will have the chance to meet up out in Indy or later this year in one of these cool cities!